TICKETING, MOBILE APP, WEBSITE
Tai Kwun is situated at the meticulously restored Central Police Station compound, one of the most significant revitalisation projects in Hong Kong. This project was designed to enhance the visiting experience at Tai Kwun on different aspect.
Our role & responsibility:
Digital strategy, Project management, UI&UX design, Infrastructure design, Software development (Ticketing system, Membership system, Way-finding system, Reporting system, Admin panel), QA & UAT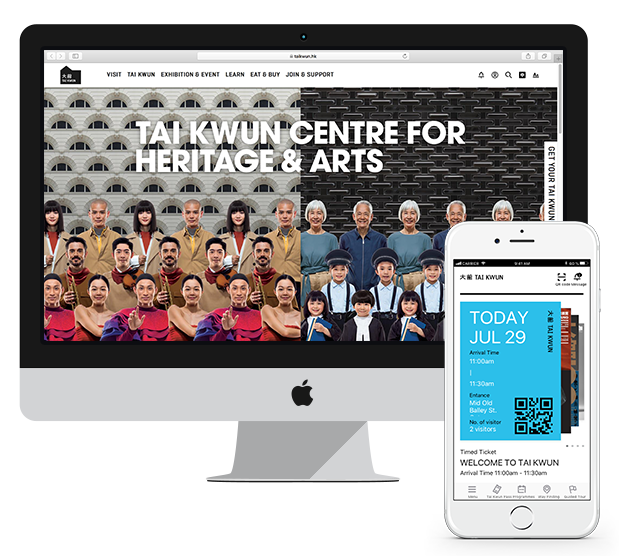 Ticketing System with QR Code Scan
Event Calendar Showing All the Upcoming Events
Membership Mobile App
The app was designed to enhance the visiting experience at Tai Kwun. The core features of the application are online registration, programme booking reservation, self-guided tour with sitemap and audio guides of Tai Kwun and all passes storation.
E – ticketing System
Users can register online and purchase tickets through Tai Kwun app anytime anywhere on the go.
Programmes Details
User are able to check different kind of  programmes and sign up for the programme that they are interested in.
Wayfinding System
Wayfinding system directs visitors to the places that they want to go so visitors can enjoy the guided tours in TaiKwun without getting lost.
A Website to enhance the visiting experience
The Tai Kwun website gives all the information including the upcoming events, site map, and Tai Kwun History. Audiences can log in to get the Tai Kwun pass and also subscribe to the newsletter to receive the latest update through the website.